email cinvanban@aol.com for more info
Owensboro, KY
There is a female, spayed, Boston Terrier, 7 years old in need of a home. Her owner has been moved to a nursing home with no chance of returning to their home. She needs a good loving home. Please pass this to any Boston lists that you know of. If you know of anyone interested, please contact me at cinvanban@aol.com. She is a nice, loving Boston lap dog.
BT mix puppies in CA
A person rescued these puppies and are now looking for homes for them. They are now 6 weeks old. The mother most likely already has a home.
Boston Terrier/Pitbull mixes
Long Beach,CA (562)422-4336 Nancy Haro nharo@kraco.com
I have 8 beautiful male/female Boston Terrier/Pitbull mixes six weeks old. Six are black and white and one has Doberman markings and one has Shepherd markings. They all have short fur. Mom is 25 pounds and dad is unknown. Mom has stand up ears and I already have a family for her after she is spayed. The adoption fee is $40 for each puppy. I have more males than females. These puppies and momma were found on the street at 2 weeks old.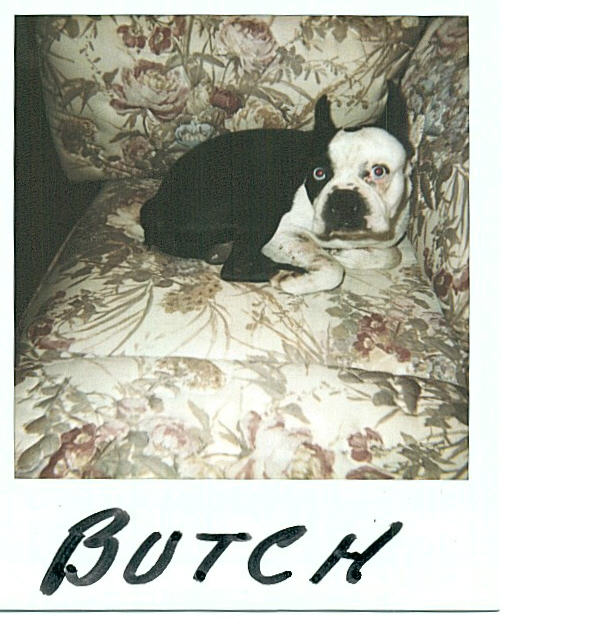 Deaf BT in TX
email EdaleeH@email.msn.com
Butch is approximately 1 to 1 1/2 years old.
Weight: 26.5 lbs
Color: Black and white
Kids: Probably
Cats: Don't know
Kids: Probably older kids
Potty Trained: Yes when he goes out on a regular basis
Crate trained: I don't know.......I will NOT put him in a crate
Leash trained: Yes
Neutered, Heartworm negative, on HW prevention and has had all of his shots.
Butch has 2 beautiful blue eyes that look deep within your soul. He is deaf. Butch was rescued from a kill shelter. He has lots of scars on his ears and front legs as well as his head. I believe that he has come from an abusive situation. He is very scared when he first meets someone but quickly warms up. Butch will be learning sign language with his new foster Mom......in fact, they will be learning it together. He needs a special person who will be willing to sign with him. He is very sweet and starved for love and attention. He will definitely need a fenced yard. If you are that special person who can give this big gentle boy a good home, with lots of love,
please feel free to contact his foster Mom - Edaleeh@msn.com.
Transport can possibly be arranged from Texas

4 BTs in Texas
as posted by Bostonrescue@aol.com
Karen Toupard, Coordinator
Boston Terrier Rescue of Greater Houston
George - larger than your average Boston Terrier with longer legs and body. George is a a very kind and gentle boy. George is housebroken and loves to sleep in the bed. George was near-death (starving) when found in the street, and is now up to about 27 pounds.
Nelson - a very sweet boy who is very cute and playful. He has a half-white/half-black face. He is very loyal and loving; weighs 19 1/2 pounds.
Kearby - cute as a button. Kearby is short and squatty and has a very soft coat. He is just adorable. Kearby weighs 13 1/2 pounds.
Angel - Angel was found wandering the streets, and was injured. She was taken in by a kind family who nursed her back to health. She is very sweet and is a pretty girl.


1 year old BT male for adoption in MA/NH line
PLEASE CONTACT ASAP ROIE GRIEGO AT: 508-224-5950 OR
E-MAIL: roieg@adelphia.net
if you are seriously interested in this dog.
name: Big Guy
age: just turned 1 year
size: about 20 pounds - typical Boston markings.
Health: excellent, up to date on all shots, on heartworm preventative,
neutered.
Kids: has been around visiting kids 7 years & up.
Dogs: OK
Cats: OK
Housebroken
walks on leash
Crate trained
Has had obedience school
Prefer home with another dog.
Prefer home where someone is home most of the time.
Dog is located on the Mass/NH line and this must be an open adoption.
Owner is too ill to keep dog and son has asked me to help him find a home
for Big Guy.


BT in MN
as posted by as posted by goldstar411@yahoo.com
Curlee is a year old male Boston Terrier. He loves kids. NO cats! He is also DOG aggresive, so he NEEDS to be a only dog or he is fine with females. He is a outside dog and is NOT housebroken however he is crate trained. Potential owners will be screened and will fill out a contract. If you are interested in Curlee please e-mail us. Also he is AKC, black, brindle and white. We WILL NOT ship so if you don't live close to Rochester, MN don't BOTHER!
Age: 1 Years
many BT mixes in TX
As posted by Heidi Trimpe at gigem96@writeme.com
Hi all ~
In searching for a foster program for this sweet little BT mix girl down here, I ran across even more BTs/mixes that need homes. I can't believe my eyes... Click this link and search for:
http://www.spca.org/petpics/dsp_dogs.cfm
Brodie (BT)
Mandy (they call her a terrier mix, looks like there's some BT in her)
Millie (yeah, pitbull mix, but she almost looks a little BT)
PJ - he's an American Bulldog.
If anyone is interested, or knows someone who is, please let me know. I'll be happy to help out any way I can.
Thanks, Heidi


2 Boston Terriers in WA
email Janet at puglady@hotmail.com for mor information
Wa. state, on Vashon Island. Female is 3, spayed, a bit nervous, around 20 pounds. Male is 4, around 30 pounds, neutered, brindle. They have both had obediance classes, should be no cats in the home, and OK with older
children, especially like women. Male is very sociable, female is a bit more reserved. They originally came from Texas, present owner has had them about 8 months. They are UTD on vaccines. Owner wants to keep them until a home is
found. Their names are Fancy and Chance.
Janet Dillard
Grays harbor Pug and Boston terrier Rescue
Wa. state
360-538-0722

BT in MI
Please contact Cody436091@aol.com for more info if interested
Gigi is a 3 year old Boston Terrier mix. She takes on the BT traits mostly. Gigi is spayed & weighs approx. 20 pounds. She has a brindle & white coat. She is currently in a foster home with other animals & kids. She would like to be top dog so it would be best if she was the only dog. She loves cats though!! She is great with kids. Gigi is very affectionate. She needs a loving home that will take time & let her know they love her.


Canine Rescue and Adoptions - Kingwood, Texas
name:Angie
Female
born 9/1998
Boston Terrier mix
email: Littlemuttsresq@cs.com
She is very loving and fun -- just needs some more attention to settle her down. She is current on shots, spayed, hw neg and on prevention -- ready to go.

Bt in IL
email Terry Joyce at Bostonsos@aol.com
Mugsy is a six year old small male. He spent 4 years of his life in an attic with no health care. He just needs to gain weight and be loved. He is neutered and is up to date on all shots.
E-mail contact for further information on this rescue.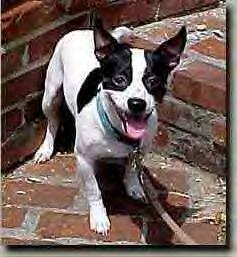 For information please contact Angela Ryan at Angela.R.Ryan@saic.com
Angela Ryan
TN Valley All Breed Rescue, Inc.
423-220-0008
Oak Ridge, TN
Jasper - Boston Terrier Mix. Jasper was rescued from an area shelter where he
was slated to be euthanized twice and was narrowly missed. Whew. Anyway, he
is completely vetted now, good with other dogs, but not good with small
children or cats. He is approximately 1-2 yrs old, weighs 13lbs. He is shy at
first, but warms up quickly.
Adoption application, contract, and fee required.
http://www.geocities.com/perrypack/dog-resc.html