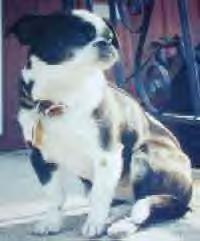 LOST - email Nancy at Nancy.Campanelli@pseg.com for more information.Bensalem,PA 215/638-7558
Name: Mindi Age:13 Sex:F Size:S
Mindi disappeared from her porch in Penndel, PA on the evening of June 30th. Very small, 10 lbs., arthritic, Black n White. Her little legs are only about 3" long! Very short shiny straight hair, and long tail. Was wearing red collar with all tags. Cute tiny little thing; always mistaken for a puppy. Extremely friendly. Owner and traveling companion is heartbroken, as are other family members including small grandchildren. We are all shes ever known. Cannot survive outside on her own. Total housedog devoted to HER REAL FAMILY. REWARD WILL BE PAID WITH NO QUESTIONS ASKED. Please help us find her. She deserves to spend her last years with her family! She is wondering where we are and must think we have desserted her. Many tears have been shed! HELP US PLEASE.

Boston Terrier shelter list is not a rescue group. It is an email list for Boston Terriers needing homes or rescue.
Click here to subscribe to BTShelterlists


View My guestbook




Sign my guestbook


visitors since October 13, 2000