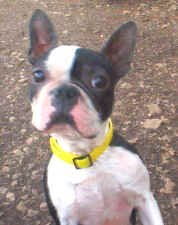 If you wish to fill out the application for Higgins please click on his picture or go to http://www.puppymillrescue.com/adoptme20.htm
HIGGINS- Boston Terrier- male black and white- born 12-20-97 This boy does have genetic Demodectic mange which is under treatment but nearly gone at this time. People wishing to adopt must be aware that treatments may have to be continued perhaps several times. He is a sweet and happy boy who dances and wiggles and is crate trained. He would like a female doggie companion and he would also be good with children. He weighs about 19 lbs. He will not be available until this round of treatment is completed.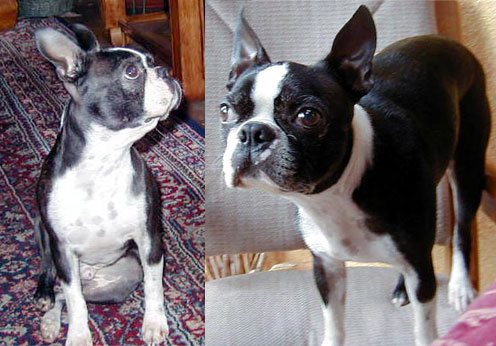 Click on his picture for more information!
Vashon Island Pet Protectors
P.O. Box 245
Vashon Island, WA
(206) 567-5222
email info@vipp.org
Frankie" is a 5 year old neutered Boston Terrier who needs someone special to love and take care of him. He has epilepsy and needs medication twice daily to control seizures which occur every 5-6 weeks. He is a loving and devoted guy and will be a devoted companion to someone willing to give him a home. If you have the love to give this pup, please call (206) 567-5222 for more information

older BT in GA
404-370-8736
sorry no email
My name is Miss Piggy. What a name!?! If I do say myself it is certainly an
injustice to be named after a PIG!! I certainly do not look like a pig do I?
My foster mom just laughs and says NO, but I SOUND like one. Anyway, let me
tell you about myself. I am ten years old and very refined girl! I do have a
cateract but it sure does not slow me down. I would prefer a little slower
lifestyle but NOT TOO slow as I have a lotta life left!! I am housebroken and
am very well behaved with the perfect personality! If you have room in your
heart and home for me please call Eden, a guest of Pet Orphans, at
404-370-8736 for more info.

Bucks and MontCo Rescue Collective
Southampton, PA
215-357-4990
email ravin@icdc.com
sorry no picture for Robyn
Hi, My name is Robin. Im a Terrier Mix (possibly Boston) I need a very special home. My mommy bit me in the head when I was a puppy. I am a happy dog once I trust people but I have a hard time trusting them to start. I have really bonded with the kennel woman here but she cant keep me. Here are some requirements. I cant live with other dogs. Im afraid of most everything and need someone to work with me.. it may take months but Im capable of loving. I cant live with kids because they are loud and scary and I wouldnt want to hurt them if I got spooked. Im basically afraid of my own shadow and havent had an easy life. I want to share all this with you because I want you to know what its like for me. If youre interested in me, even with my problems, and think you can love me just because Im me, please send me an email. I dont want to live in a kennel forever, (ive been here about a yr) but Im pretty shy and it would break my heart to be rejected. Faithfully yours, Robin
This pet is: up to date with routine shots, already house trained, altered