BT in FL
Email: aelundy@yahoo.com
Phone (Day): (561) 287-5777
Phone (Evening): (561) 221-8591
AKC-BOSTON, FEMALE, 3YRS OLD. She needs a new home. Her ownerd have inquired her mothers 4 mini poodles and she is not getting the attention she deserves. She is an excellent dog, great manners, great with kids and other people. House-broken, Very affectionate. Please if you are interested, please call April at Amour Animal Center in Palm City, Florida for more information. 561-221-8591 ALSO 2 of the poodles are up for adoption in you know anyone who is interested.
2 BTs in TX
Boston Terrier 1 male, 1 female 1 1/2yrs 1male 7mo $100 ea 817-838-0990 after 5
BT in NC
704-542-2339
Boston Terrier: needs to be the only dog
BT in PA
Age: 11 Months
Email: purplerose43@yahoo.com
Phone (Leave Message): (814) 274-4852
He is a beautiful Boston Terrior. He is black, white, and brindle. He comes
by the name of Harley. We need to find him a loving home, because my daughter
is having a baby. If you are interested you can call or write to me at the
e-mail shown. Thanks!!
BT in Ohio
email snowpuppi@yahoo.com
Age: 7 Years
Hi, I'm looking for a good home. I'm happy most of the time laying around on
your lap I like kids and other pets if you have any. My mom says she just
doesn't have time for me anymore. I like to take walks, i like my own place
to sleep (like a crate). I also go outside to potty. If you think you can
give me a good loving home please email my mom . THANKS Oh PS I don't want to
fly to get to my new home so no shipping please and my mom doesn't have any
way to send a picture so I'll tell you what I look like I'm a black brindle
with a lot of white on me. I weight about 19lbs and I'm a girl Hope to hear
from you soon

Metroport Humane Society
PO Box 701
Roanoke, TX
(817) 491-9499
EMAIL MetHS98@aol.com
Please call or E mail to verify adoption status.
Available in DFW area, N. Texas only. Buster is an adult Boston terrier mix,
mostly brown and blackmixed short hair.He weighs about 10-15lbs. This dog was found over a month ago and never claimed. The finder thinks he is about 4years old,good with kids and people and house trained. He is friendly and mellow . He now needs a home by June first at the finder is moving and Buster cannot go.
2 BTs in FL
email Mshumbird@aol.com
"Toby" is 9 years old, purebred, Neutered, up to date on everything, and on
Heartguard and Advantage. He is brindle and white, and VERY overweight -
probably 40 lbs.
approx. 5 years old and 18 lbs. Black and White I think and has a very pretty
"girl" face. She is slightly HW + but I have been told this can sometimes be
treated by using Heartguard. I will verify this with my vet. This little
lady, whom I hear is VERY kissy and affectionate, will also be looking for
her forever home.
Paragould Animal Welfare Society
Paragould, AR
870-240-0997
EMAIL paws@grnco.net
very sweet, quiet, calm, well behaved dog. not at all hyper. turned up on someone's porch and they brought him to the shelter thinking someone would claim him, but no one did. he's a beautiful boston and anyone would be very lucky to have him in their family. This pet is: up to date with routine shots, already house trained, altered
Second Chance Sanctuary
Oneco, CT
Boston Terrier,Poodle Mix
860 928 5965 for info on adopting them
These 3 month old boston terrier mixes are female , vaccinated and waiting to be adopted . They will become about 30lb dogs at most . Please call sister Eleanor , the nun who cares for them . 860 928 5965 for info on adopting them . This pet is: up to date with routine shots
5/22
BT in Ohio
7 Years
email jetrae@webtv.net
(740) 226-5408
I have black brindle female , she is good with other pets. housebroken and crate trained.She would make a real nice pet for someone. I'm sorry i don't have a picture of her. I'm not wanting to ship her. please if you think you can give her a good home call or email me Thanks
5/22
email FXYGRL505@AOL.COM
Location: Elmwood Park, NJ
AKC registered Boston for adoption. Male, black & white, 2 1/2 years old. Great personality, very loving & playful. Neutuered, up to date on all shots. Please give me as much info about yourself as possible in your email. I would prefer a family situation in the Bergen County area of NJ. Let me know how many people in household, any other pets, how much time dog would spend alone (if any), what town you are from, etc. Please note: I will NOT respond to any emails that simply give a phone number or email address. I need to have some basic info to help me decide on an appropriate and loving home! Thanks!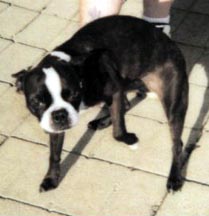 BT in IL
Fudge is four years old and spayed. She is dog aggressive and not good with children. She is great with people just not big on sharing with dogs. Fudge is small and brown weighs 14 pounds. Please complete the application at http://www.geocities.com/bostonsos/index.html
5/22
2 BTs in KY
email shensonj@yahoo.com
London, KY
(606) 864-5695
AKC Boston Terriers. 1-1yr.old. Has leg injury from birth. Limited white. A little shy but sweet. 1-8yr.old. Has alot of white. Very friendly and loves kids. Both females. Papers will be given when prove of spaying shown. Pet use only. No shipping.
2 BTs in IL
Bostonsos@aol.com
ALL fosters are fixed and vetted prior to adoption. Please fill out an application at http://www.geocities.com/bostonsos/test.htm Adoption fee to cover the cost of vet care.
Mugsy is a ten month old neutered, male that has both rear patellas blown out. His first surgery is scheduled for Wednesday. They will be up to date on shots and heartworm when they leave for their new homes. He will not be adoptable for a while but when you see his picture you will be astounded that anyone could give him up. His personality is even better than his looks.
Henry is a ten month old neutered, male. He will be up to date on all shots and heartworm before he goes to his new home. Henry bit a child so he can't be around small children. He's a very well behaved fellow. He is healthy and great with adults and dogs.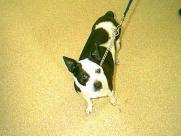 Humane Society of Wichita County
Wichita Falls, TX
940-855-4941
email jleug@aol.com
Turned in by owner on 4-23-99 because he didn't like children. White with brindle markings. Longer muzzle than the traditional Boston has. About 8 years old and desperately needs a nice retired couple or family with older children to give him a good home. This is a very nice dog and in good health. Gets along with other dogs. He has been at the shelter so long, he has about given up on finding a home. When one of our volunteers tries to walk him, he won't hardly go past the building area because that is "home" to him.
This pet is: altered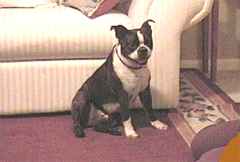 BT in TX
email Bostonrescue@aol.com
Brimley was surrendered by his owner, who had suffered a stroke. Brimley is a very unusual reddish-brown brindle color, and weighs in at 32 pounds! He is 6 years old and gets along well with other dogs. He loves to run and play, and should probably lose a few pounds!